Profundulus labialis (Gϋnther, 1866)
Genus Profundulus Hubbs, 1924
Tlaloc mexicanus Alvarez & Carranza, 1951
junior synonyme
Vernacular names:
English
Largelip Killifish
Etymology:
Generic name 'Profundulus' derives from the Latin word 'profundus' = deep; the generic gender is masculine; the specific epithet 'labialis' is an allusion to the prominent lip structure of P. labialis; a noun.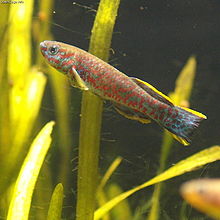 Size / Weight:
max. TL 115 mm (pers. com., M. Tobler, 2009); max. TL 100 mm (Riehl & Baensch, 1990: 577); max. TL 10.16 (= 4 inches) in males, max. TL 11.43 in females (= 4.5 inches) (Günther, 1866)
Figure 1. Profundulus labialis; young fish, lateral view, immediately after catch, specimen collected 2009-02-07, E-MEX 07-09, Santa Rita, Chiapas, Mexico.
Diagnosis:
Similar to P. candalarius Hubbs, 1924 and P. hildebrandi Miller, 1950. Body of P. labialis higher (27.5-32.3% of SL vs. 25.5-31.5% in P. candalarius and 20.8-28.4% in P. hildebrandi) and snout length short (4.8-6.3% of HL vs. 5.5-7.1% in P. candalarius and 6.2-9.4% in P. hildebrandi). P. hildebrandi is endemic to Laguna Maria Eugenia located on a limestone plateau in the western outskirts of San Cristobal de las Casas, Chiapas, and can be easily distinguished by its protruding lower jaw. When watched from below the upper jaw is not visible (vs. visible in P. labialis) (Miller, 1950).
Sex differentiation:
Slight sexual dichromatophism; orange-yellow marginal bands in dorsal and anal fin in males, flanks stronger in coloration in males (Riehl & Baensch, 1990: 577); as all member of the labialis group (subgenus Tlaloc) anal fin markedly elongated in matured females (Miller, 1955).
Distribution:
Endemic to the Rio Grijalva and Rio Usumacinta basins (Gonzalez-Diaz et. al., 2005); Atlantic and Pacific slope of south Mexico and west Guatemala (Riehl & Baensch, 1990: 577); in Atlantic tributaries (Rio Usumacinta, Rio Grijalva) in central Chiapas, south Mexico, Pacific tributaries in central Guatemala highlands (Rio Samala, Rio Panajachel), from 420 m asl (= 1400 feet) up to 2400 m asl (= 8000 feet) (Miller, 1955).
E-MEX 07-09, GPS: 1536 m asl, N 16º08.472′, W 91º58.440′, on the road MEX 307 La Trinitaria – Lagunas de Montebello, towards East, ca. 300 m before village Santa Rita, ca. 10 km after La Trinitaria, on both sides of the road, Chiapas Province, Mexico (ME, 2009, pers. obs.).
Ecology:
Singly or in small groups; coexists with the poeciliids Poeciliopsis hnilickai Meyer & Vogel, 1981 and Poecilia sphenops Valenciennes, 1846 and with the invertebrate Procambarus acanthophorus Villalobos, 1948 in E-MEX 07-09. Various highland pools, not connected during the presence (2009-02-07) on the spot but certainly in the rainy season; standing water, shore very steep; major pool max. 6 x 4 m, 1.5 m deep; no aquatic vegetation visible, hygrophilic grass hanging from the banks; bottom with mud, loam, leaf litter; greenish water (16 ºC, 8.1 pH, 820 µS/cm) of medium turbidity (ME, 2009, pers. obs.).
Conservation status:
IUCN Red List not evaluated.
There are no protective measures in place.
Aquarium maintenance:
Maintenance in aquaria easy; requires large tanks with a min. length of 80 cm; occasionally a little quarrelsome.
Remarks:
P. labialis, P. candalarius and P. hildebrandi are allocated in the subgenus Tlaloc, also referred to as P.labialis group.