Searching the enigmatic cichlid Thorichthys callolepis within the upper Rio Coatzacoalcos basin, Oaxaca – March 2011
Rio Almoloya – E-MEX 31-11
We were fishing in the Rio Almoloya, which some locals also refer to as Rio Ajal on the NE face of Sierra de Juarez, in the 'Region de los Chimalapas'.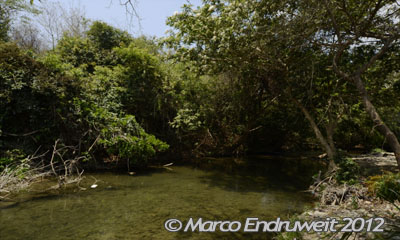 This habitat is small stream with a max width of 8 m and max depth of 1.5 m. At the time of our presence the current was moderate to fast in some riffles over smooth rocks at 0.3 m depth, water clear to slightly turbid. Turbidity may be caused by siltation. Air temperature at 28 °C; water temp. at 25 °C; 7.9 pH, 510 µS/cm; 8 °KH; no higher aquatic plants. Predominating vegetation form was a semi-arid landscape with small trees and shrubs. GPS handheld showed an altitude of 177 m asl.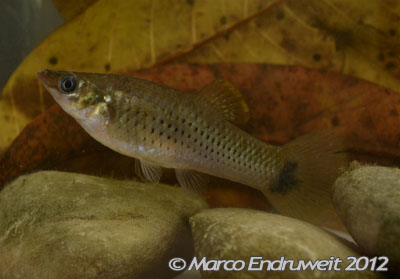 A female of Poecilia mexicana. We were trying to catch one of these beautifully colored males (broad, bright yellow caudal fin margin) – unsuccessfully! We did not even could take a usable underwater photograph of a male.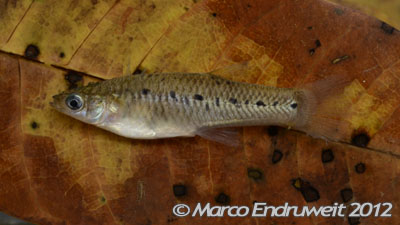 A female of Poeciliopsis gracilis, a rather common poeciliid within the Rio Coatzacoalcos basin.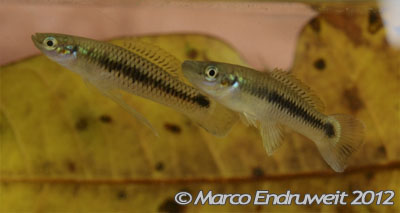 This new Heterandria displays colors like a Poecilia. It is coded Heterandria sp. PO3. Read more about this species.
This is Rhamdia quelen (Quoy & Gaimard, 1824). Rhamdia guatemalensis (Günther, 1864) is considered to a junior synonyme.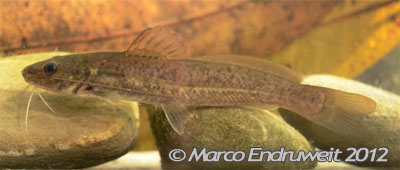 Rhamdia quelen in its natural surroundings on sand and leaf litter.
A male of Thorichthys maculipinnis (Steindachner, 1864) in the Rio Almoloya. T. ellioti Meek, 1904 is a junior synonyme of T. maculipinnis.
A male of the enigmatic Thorichthys callolepis (Regan, 1904) in its natural environment, the Rio Almoloya, upper Rio Coatzacoalcos.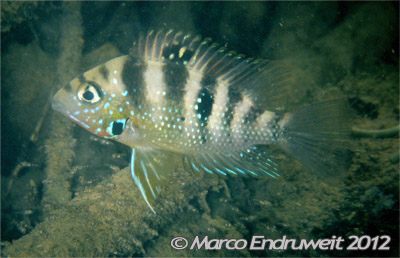 A female of Thorichthys maculipinnis guarding her free-swimming fry (below the female).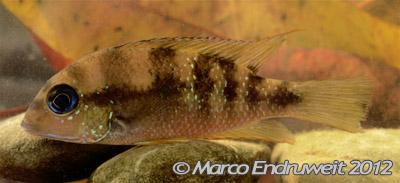 Thorichthys callolepis (Regan, 1904) in the photo cuvette. Note the rasp berry red abdominal and dark blue iris coloration.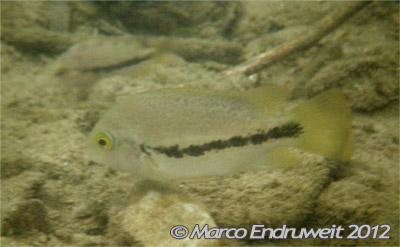 Even after we have tried full day to catch this species, we did not get it. This is s yet undescribed species, which well known in the hobby as Vieja sp. 'Coatzacoalcos' or 'red-tailed' Vieja (Raschke, 2006). Some authors tend to allocate this taxon to 'Cichlasoma' bifasciatum. It is readily recognized by its row of black blotches almost forming a midlateral stripe; nowadays it should belong in the genus Paraneetroplus.
This species is internally coded Paraneetroplus sp. CI10.
NE face of Sierra de Juarez, in the 'Region de los Chimalapas', upper Rio Coatzacoalcos, Oaxaca, Mexico. We were fishing close to a washing place of local villagers. Hence, there were household trash and signs of pollution in and along the stream. Especially in sluggish areas there were thick algae clusters indicating a high bioload (eutrophication). This stream was selected since it is the type locality of Thorichthys callolepis (Regan, 1904), which is still thrivingly present here.
Another species we could not catch but underwater photograph is the Rio Almoloya form of Paraneetroplus bulleri Regan, 1905.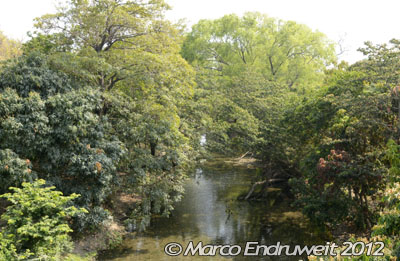 The Rio Malatengo, biotope E-MEX 32-11, low water level, with plenty of sluggish areas during our visit in March 2011.
It did not take long that we obtained Thorichthys callolepis from its type locality.
Employing our cast nets we caught (aside T. callolepis) Poeciliopsis gracilis (Heckel, 1848), Xiphophorus hellerii Heckel, 1848, Astyanax aeneus (Günther, 1860), and Poecilia mexicana Steindachner, 1863. In addition we saw (not caught) Paraneetroplus sp. CI10; the same fish as we saw in the Rio Almoloya, our previous spot.