Channa hoaluensis Nguyen, 2011
Synonyms:
Channa hoaluensis Nguyen, 2011
original description
Vernacular names:
Cá Trối Tien Vua Hoa
Vietnamese


Etymology:
The generic name derives from the Greek 'channe' means 'an anchovy, a small fish'. Specific epithet is chosen for its type locality Hoa Lu region in Ninh Binh province.
Size / Weight:
214 mm SL, holotype, RIA1 #: NB.10.05.001. (see remarks)
Diagnosis:
D = 48-49; A = 31-32; P = 14; V = 0; C = 13-14; L.l = 62. Scales surrounded caudal C = 22-24. Gill rakers 4 – 6. Vertebrae: 56 – 57. Lo = 6,14A = 3,63T. T = 4,79Ot = 6,91O = 3,44OO. OO = 2,00O
Mouth deep and narrow, arc length greater than width. 62-64 lateral line scales; 56-57 vertebrae. Gill rakers on first arc: 4-6. Tongue flad, sucking thin, slightly rounded shape provides of the mouth, body with 7-8 horizontal stripes.
This species is distinguished with other non pelvic fin species in genus Channa are: deep arch mouth, the length of the mouth is greater than the width. The gap before the dorsal fin is larger than the gap before the pelvic fin. There are more than 60 lateral line scales, 56 -57 vertebrae. Gill rakers on the fisrt arch: 4 – 6. Long tongue, flat, thick, suck is arc, close to lower jaw, the back shape is tapering, occupies the width of mouth cavity. There are 7 – 8 crossed bracket strips (<). There is a black spot after the gill cover and above the source of pectoral fin. Source of caudal fin has a black eyelike spot. (Nguyen, 2011, OD).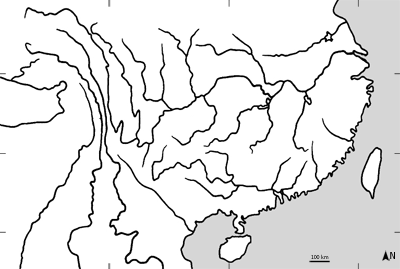 Figure 2. Map of China and northern Vietnam. reported occurence; one symbol may represent several collecting sites.
Sex differentiation:
—
Distribution:
Hoa Lu region, Ninh Binh province, southern part of North Vietnam.
Ecology:
—
Conservation status:
IUCN Red List not evaluated.
Aquarium maintenance:
no reports available.
Remarks:
Link to the OD's abstract.
According to the data given in the OD the holotype (RIA1 #: NB.10.05.001), a female, shall have a SL of 255 mm. I have measured just 214 mm SL (2012-04-18, RIA1, Bac Ninh).